Zoji-la tunnel project is a boosting project in the age of modern India. Zoji-la pass is situating at an altitude of 3,528 m on Srinagar – kargil leh highway. It is 15km from Sonamarg and provides a vital with Drass and Kargil in Ladakh. But, due to avalanche prone area, it remains close for about 6-7 months (November to May).
It takes more than 3 hours to cross the pass but tunnel will reduce it to 15 min. This tunnel plays an important role for the army and Ladhaki people as the pass is near LOC. So, it is more prone to terrorists' attack.
This project was approved by government of India in January 2018 and on Thursday, 16th sept 2020 Union Minister Nitin Gadkari launched first blasting for construction. The project was a going on demand from all locals living there as it will make their travel short and save time.
FEATURES OF ZOJI-LA TUNNEL: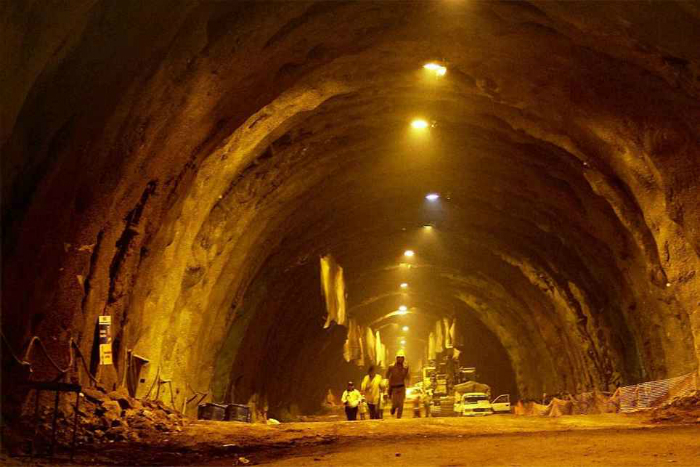 Zoji-la tunnel is 14.15km long and is at an altitude of about 3,000m under Zoji-la pass on NH-1 linking Srinagar and Leh through Drass and Kargil.
The tunnel will be massive achievement and is the longest tunnel in Asia.
Zoji-la tunnel will provide all year passage to the locals as well as to travelers.
It will provide immense support to the armed forces on keeping eye over the borders in Ladakh, Gilgit and Baltistan.
 The project will make Srinagar- Kargil- Leh section of NH-1 free from heavy snowfall and avalanches.
This tunnel will reduce travel time from 3 hours to 15 minutes (that's great !!)
MEIL (Megha Engineering and Infrastructure) has taken this project who bid it for 4,505.5 crore. This is the lowest bid for the project.
Prime Minister Narendra Modi called Zoji-la tunnel project as "modern-day marvel".
The construction cost of Zoji-la was Rs 6,575.85 crore and after adding total capital cost, it reach to 8,308 crore rupees by NHDICL. But the cost has reduced to 4,505.5 and on adding total capital cost. It comes out as 6,803 crore rupees.
The project was first given under private company which will later charge toll taxes but the government of India undertook it.
The tunnel will include a fully transverse ventilation system, emergency lighting, continuous power supply, CCTV monitoring and much more facilities.
Zoji-la tunnel will also have emergency telephones and fire fighting cabinets every 250m.
OBSTACLES TO OVERCOME:
The project is constructed from Z-morh tunnel to Zoji-la tunnel between Sonamarg- Kargil on NH-1. These areas usually face heavy snowfalls and avalanches making hard the construction process.
 The Zoji-la tunnel built 700m below surface level which will require heavy construction work.
The river flows adjacent to the working site which will affect the work.
The whole project is in two parts. The first part involves widening of 18.50km road and second part is construction of 14.15km long tunnel. The road widening will start from Judd- morh to Zoji-la tunnel.
The project was first given to IL&FS group company which later abandoned it due to financial problems. Zoji-la tunnel is expected to be finish in just 72 months. This route will also benefit Amarnath travelers. This project holds great importance for economic development of our country and we all are looking forward to the completion of it.